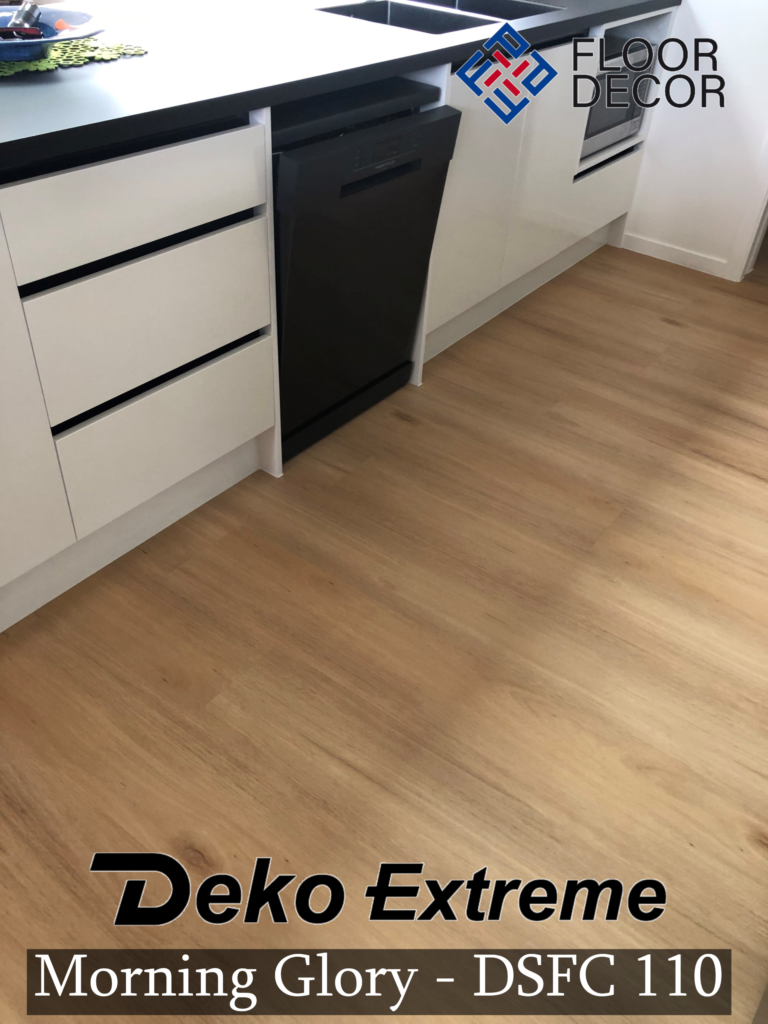 The kitchen is the central hub of the home and the place where everyone tends to congregate. When selecting kitchen flooring, it is essential to consider factors such as waterproofing, impact resistance, fade and scratch resistance, as well as comfort underfoot. The kitchen is a high-traffic area that is prone to spills, dropped objects, and constant foot traffic, making it crucial to choose a flooring option that can withstand these challenges. Kitchens need to have durable, extremely comfortable underfoot for standing long hours, 100% waterproof with high impact, scratch and slip resistance flooring.
Unlike other rooms in the home, the kitchen gets used daily – either for food storage and preparation, group or family dining, or just as a rallying point for activities. Kitchens take a beating unlike any other room – save maybe the bathroom. It's no coincidence that both are regularly exposed to moisture. From washing dishes, sinks, cooking, ice makers/refrigerators, to regular foot traffic, moisture is a real consideration that affects every surface in the kitchen, especially the floor. When choosing flooring for the kitchen, waterproof is key.
Due to the number of kid, adult, and pet feet meandering through the kitchen each day, a durable floor is also critical. Many kitchens double as a "mudroom" with an exterior entrance and all the fun, dirt, debris, and moisture one could track from the outside to beat up your floor.
Additionally, like in a bathroom, all that moisture on a hard surface can be an accident waiting to happen. Many waterproof flooring options get extremely slippery when moisture is applied to them. Non-slip options should be a consideration for any flooring installed in a kitchen. 
Deko Extreme Hybrid SPC (Stone polymer composite) flooring has entered the flooring market, rapidly replacing traditional floor decoration materials with its health protection, 100% waterproof, higher impact resistance, Slip resistance and affordable price, becoming the fastest growing floor decoration material in the past few years.
Deko Extreme Diamond Core Hybrid SPC flooring  is meeting the trend of Longer wider planks of 1.8 m long and 228 mm wide creates the illusion of larger space in your kitchen and dining area.
The Double UV coating with Ceramic beads is providing the enhanced protection for the floors against scratches, stains and against fading from NZ harsh UV radiation. Ideal choice for busy areas as kitchen and Hallway as highly impact resistance.
Perfect for New Zealand weather conditions, the product is Extremely Dimensional Stable due  to Virgin core material with 8mm in Thickness, can withstand the temperatures ranging from -30C to 75C, making it ideal for any climate.
Ease of maintenance from spills of washing dishes , cooking and high foot traffic with 0.5mm wear layer, ensuring the toughest protection from scratches and stains, retaining the realism look of the floors for years.
Extremely Comfortable and Acoustic underfoot with 2mm IXPE underlay in Deko Extreme Hybrid SPC flooring  can provide several benefits for individuals who stand for long hours in the kitchen and experience achy joints offers a soft and resilient surface that cushions the feet and absorbs the shock caused by standing on hard kitchen floors. This helps reduce the impact on joints, such as ankles, knees, and hips, which can contribute to joint pain and discomfort. The cushioning properties reduces the strain on muscles and joints, allowing individuals to stand with less fatigue and pain. Kitchen floors can often be cold, especially if they are made of materials like tile or stone. The IXPE underlay provides thermal insulation, helping to keep the feet warm and preventing the cold floor from exacerbating joint discomfort. In addition to its cushioning properties, the IXPE underlay can also help reduce noise transmission. This can be particularly beneficial in kitchens where loud footsteps and clattering objects can be disruptive. A quieter environment can contribute to a more pleasant and comfortable experience while standing for long periods.
Excellent option for Healthier Living as it has achieved Level E0 Formaldehyde Emission.
DIY Friendly as the Locking mechanism Deko Extreme uses is a UNILIN lock mechanism for easy installation for anyone looking to do a DIY and thicker locks which do not break easily and cause any issues of peaking and curling.